A son lancement, la Seat Ibiza 5 portes sera disponible avec 4 moteurs: 3 essence et 1 seul diesel.
L'offre moteurs sera ensuite élargie à deux autres moteurs diesel de moindre puissance. Ces moteurs sont tous aux normes Euro4.
Les moteurs essence disponibles sont:
1,2 L - 70 ch - 139 gCO2/km (3 cylindres)
1,4 L - 85 ch - 149 gCO2/km
1,6 L - 105 ch - 157 gCO2/km
Ces moteurs sont conventionnels, repris de la banque d'organes VW. On ne trouve pas de moteurs tubrocompressés à cylindrée réduite, comme le 1,2 TCE de Renault par exemple. Ces moteurs essence bénéficient quand même d'une injection indirecte multipoints, et de 4 soupapes par cylindre. On remarque que le 1,2L est un moteur à 3 cylindres, tous les autres étant à 4 cylindres.
Le moteur diesel proposé:
1,9 L TDI - 105 ch - FAP - 119 gCO2/km (injecteur-pompes: pas d'injection par rampe commune)
2 autres moteurs diesel viendront ultérieurement: un TDI de 1,4L de 80 ch, et un 1,9L TDI de 90 ch. L'ensemble des moteurs diesel sera équipé de filtres à particules.
Photo sous capot du moteur essence 1,6 L de la Seat Ibiza.
Ce moteur est un quatre cylindres à injection multipoints et 16 soupapes qui développe 105 ch (77 kW) et 153 N.m de couple à 3800 tr/min. Sa consommation sur cycle mixte est de 6,6L/100km, ses rejects de CO2 limités à 157 gCO2/km.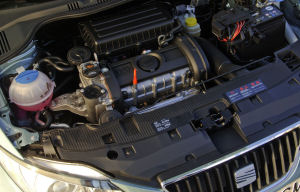 Click to enlarge
(droits Seat )
Vue du moteur essence 1,4L disponible au lancement de la Seat Ibiza. Euro4, ce moteur délivre 85 ch et 112 N.m de couple à 3000 tr/min. Sa consommation de carburant pour un moteur essence est raisonnable, à 5,9 L/100km. Ses rejets de CO2, à 139 gC02/km le placent parmi les bons élèves de sa catégorie.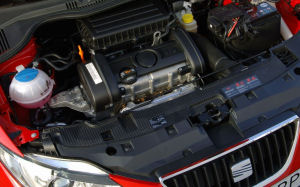 Click to enlarge
(droits Seat )
Le seul moteur diesel disponible au lancement de la nouvelle Seat Ibiza ne bénéficie encore pas d'injection directe par rampe commune, mais de simples injecteurs pompes (comme sur les anciennes générations de TDI). Issu du groupe VW, ce 1,9L TDI développe 105 ch et 240 N.m de couple à 1900 tR/min. Ce moteur TDI est équipé d'un filtre à particules. Consommant 4,5 L de carburant aux 100 km sur un cycle de roulage mixte, ses émissions de CO2 sont contenues à 119 gCO2/km.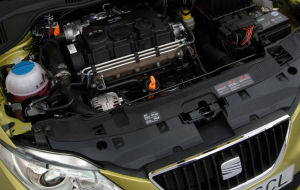 Click to enlarge
(droits Seat )